Our New Home
The office is also the new home to all of Dovetail & Slate's partner companies including Walker GRP, Formulate Associates, Innotech Partners and Doom & Gloom.
Take a look around new 2400² feet office, located just 2 minutes around the corner from our previous building.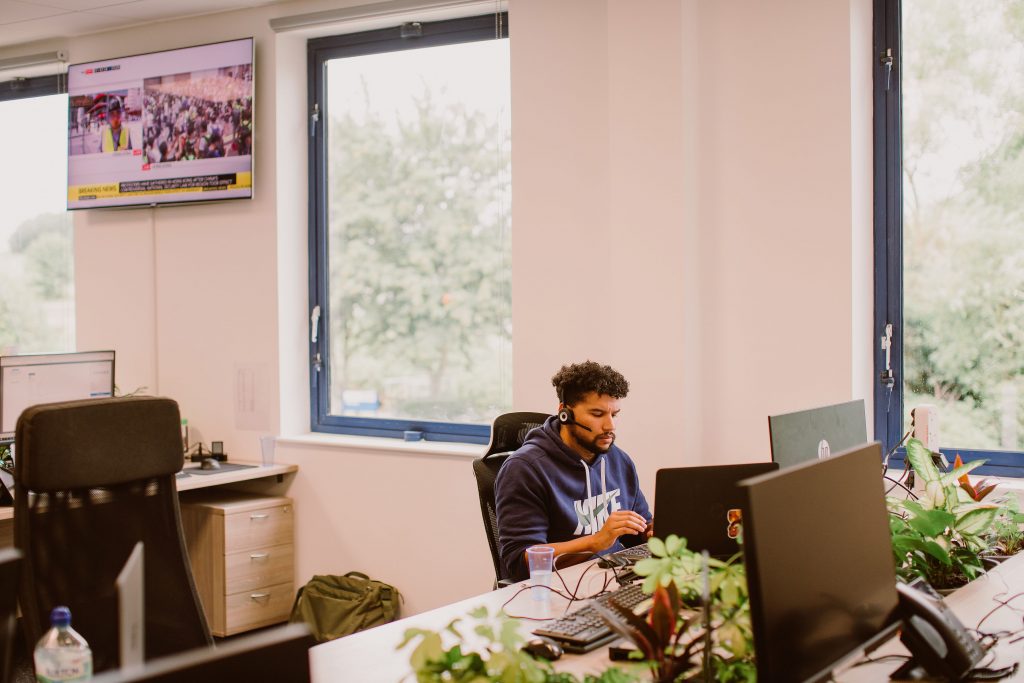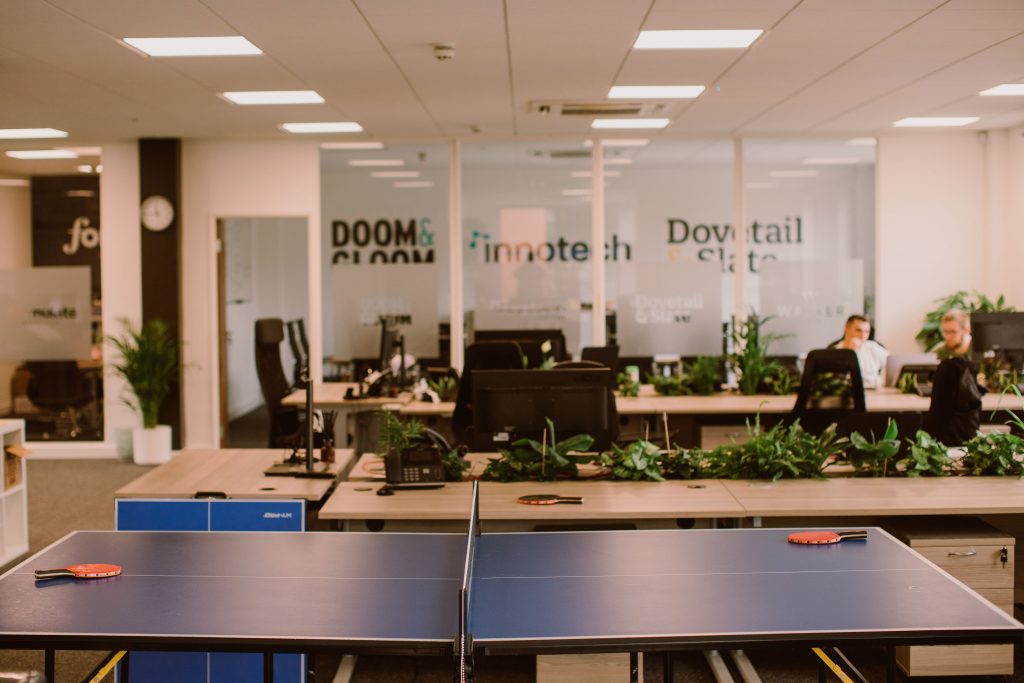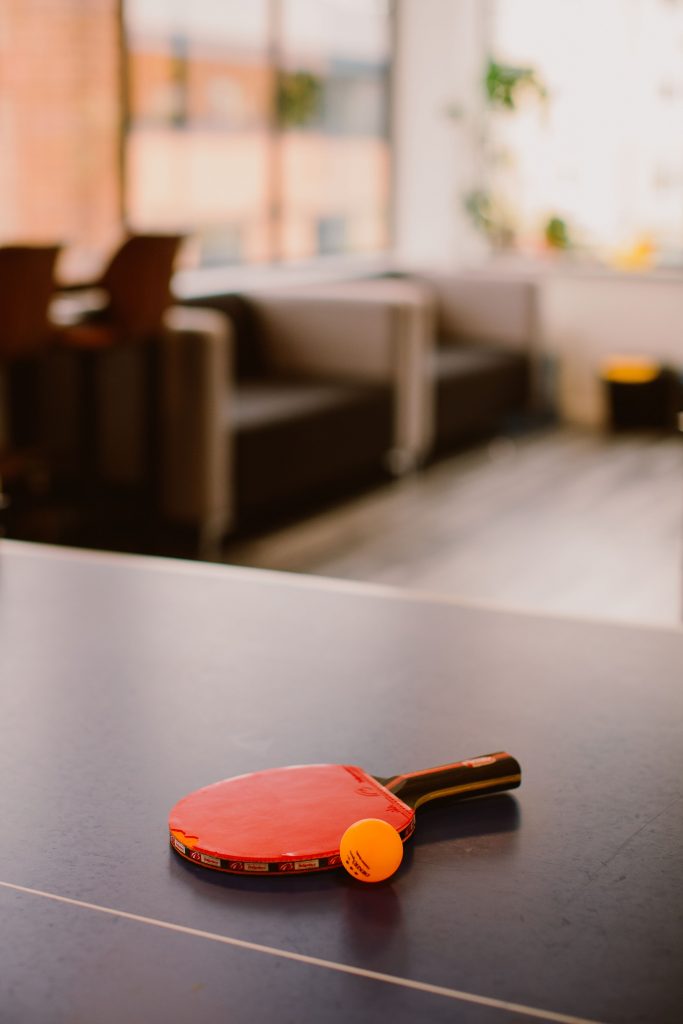 FE Associates Partnership
A Meeting of Values and Minds
Team Dovetail and Slate are thrilled to announce a new strategic alliance with FE Associates – the education sector leader and all-round industry expert advisors. We can't wait to share the benefits of this dynamic new venture with you.
Who are FE Associates?
As specialists in senior appointments and strategic consultancy, FE Associates are likely already on your radar. The brainchild of a team of former college principles, they bring with them a wealth of knowledge and insights.
For the last thirteen years, FE Associates have provided dynamic and trusted advisory services to the education sector, including:
· executive search consultancy
· interim leadership and management solutions
· quality improvement
· strategic guidance and project management You can find out more about their services at www.fea.co.uk
A common cause
Like us, FE Associates are built on foundations of excellence, honesty and personalised service. Together we share decades of experience providing customised, curated recruitment solutions. Our client relationships are at the heart of what we do. While others might probe and pressure, we listen and guide. Quality, not quantity, is our collective driving force.
A bright future
So, what does all this mean for your team? Well, we're delighted to offer Dovetail and Slate customers a multitude of perks to enjoy, including:
· discounted rates on interim leadership roles
· permanent senior recruitment solutions
· quality improvement services
· preferential terms on other FE Associates' other services
We hope you'll be as excited as we are about the potential this partnership brings. For more information on this and other exciting new developments, get in touch today!
Work well, play well: striking the work-life balance
In most roles, effort = reward. But in a competitive working world, how do you max out your effort without compromising your home life?
Burning the midnight oil, dedicating yourself to your job, going over and above to please your boss… these cliches are reeled out by advocates of career advancement and mental health professionals alike, but each from a very different perspective. The former sees long hours and intensified efforts as a way to raise yourself head and shoulders above others in the workplace, a rite of passage for progression. The latter views overwork as a stepping stone on the path to burnout, anxiety and a difficult home life. With a recent Mental Health Foundation finding that more than 40 per cent of employees are neglecting other aspects of their life due to work, it seems that Britain's workforce is feeling the pressure.
Achieving your potential at work is obviously important, and most people would argue that short-term pockets of stress or heightened workloads are an expected part of most jobs. But when the pressures become unending, do you know how to handle it? Below we've done a deep-dive of four of the most valuable problem-solving strategies, based on expert advice.
1) Say something
Sounds simple, doesn't it? But in practice, speaking up to your colleagues or boss can be one of most difficult things you can do. In some workplaces, there's a stigma of inadequacy to contest against for workers who 'can't keep up' – even when workloads are assigned entirely arbitrarily, or colleagues are expected to take on extra duties following company redundancies or reshuffles.
Despite these issues, reporting overwork to a manager remains one of the most effective things you can do – from both a professional and legal standpoint. The most obvious argument is that your manager simply might not know how overworked you are. Generally duties tend to be accumulated by employees over a long period of time, and your manager may not have noticed your hours creeping over and your workload stacking up. In this case, it could be effective to list out your duties and go to them with an action plan. It could be that some of your work could be shouldered by someone else within the team, or you may even find that some of your tasks have become outdated and are not necessarily needed any longer (producing reports for another department is often a key culprit). At the very least, if your manager can't find any way to help you ease your workload, making them aware that you're feeling the strain might prevent them from turning to you next time there are more tasks to be divvied out.
2) Breaktime means breaktime
Put down the laptop, step away from the mobile – one of the keys to successful stress management is the ability to break fully from work outside of office hours. Unfortunately, thanks to our hyper-connected modern world, getting that complete mental break is more difficult than ever. Many employees are connected to their work networks from home, connected to workmates via social media, and even plugged into work email 24/7 via their mobiles.
If this is you, then you can take steps to keep your work life contained. Steer clear of work-based social media like LinkedIn outside office hours, while on Facebook you can unfollow colleagues without unfriending them, meaning they don't show up in your newsfeed. If you consider it a necessity to have email on your mobile, consider whether you could switch off notifications, so you can at least check it at your own behest.
While these are practical tips to give you space from work, don't neglect putting in the effort to get some mental headspace, too. Find hobbies outside work that force you to focus, to give your mind a break. Crafts and sports are two great examples of these – you want to feel challenged, but not mentally exhausted upon completion.
While it's great to have friends from the office, be mindful that socialising with them does leave you on standby to talk office news and gossip – or maybe even becoming embroiled in it. Keeping a social group that's totally separate from work is a great way to give yourself a natural break come the end of the working day. If you do have office friends, be mindful of the company you keep, and don't let them constantly revisit your working day.
3) Boost your efficiency
This is one of the first defences unscrupulous managers will reach for – are you working unproductively? But before you dismiss the idea, step back and take a dispassionate look at your working day. If you can accept the premise that no one is 100 per cent efficient, there is most likely at least one or two small actions you can take to help improve your efficiency – and by proxy manage your workload and stress.
If there's a task you particularly struggle with that eats up the hours, consider asking for training. It doesn't have to be formal – you can shadow someone else as they do the task, for instance – but in training you could find a time-saving shortcut, or at least the confidence to make decisions more quickly.
A second suggestion might be to look at your recurrent meetings. Are you needed at every single one? Are your contributions valuable to the team – and theirs to your role? There's a culture around meetings that's akin to social invites – people would rather invite someone surplus than risk causing offence. Don't be afraid to pipe up if you think your time would be better spent elsewhere.
4) Examine your own mental health
We live in an age that's waking up to mental health and its debilitating effects on the sufferer. Depression, anxiety, OCD and a slew of other conditions are now rightfully getting the medical attention they deserve, and society is moving to destigmatise those who speak up about mental issues. While talking about mental health issues is never easy, it is at least easier than it was – but it's up to you to be alert as to your own condition. Read up on the signs of mental illness (the Mind mental health charity is a good place to start), and reach out to family, friends, HR or your GP if you feel overwhelmed or like you're struggling to cope.
Keeping the work-life balance is a necessary tightrope walk, but one of the best steps you can take is simply to become aware of it. Don't blindly agree to work without considering its holistic impact, don't keep company with toxic workmates, don't accept that it's 'just the way things are' when you're finding it tough to stay afloat. With a mindful approach and proactive mindset, managing your personal and professional should become easier – and you may even inspire others to re-examine their own work habits, too.
Vetting and Screening
Why do we do it?
The core of our business is Recruitment, we concentrate on placing quality candidates into education-based positions up and down the UK, and while this is the focus of Dovetail & Slate, we still have a large area that we need to meet that are standards across education and education recruitment – Vetting and Screening. The education sector requires skilled teachers, assessors and IQA's but the staff and students also need to feel that safeguarding has been held to the utmost level, to enable a feeling of safety and trust between all agency candidates, staff and students involved.
The Education sector is pretty huge and is prominent over the world. In the thousands of education establishments across the UK vigilance is expected when it comes to safeguarding their students – and so they should!
Dovetail & Slate view ourselves as an extension of the education sector and hold ourselves to the same standard as Schools, Colleges and University's do.
We offer permanent and temporary recruitment solutions all over the UK, and understand that each establishment may have differing requirements, so we do try to be flexible and fit around each client and each candidate.
We are always looking for ways to better our efficiency and knowledge throughout the sector, that means keeping up to date with legislation and staying ahead of industry standard changes. We also believe that it communication is highly important, and this shows through in our robust and transparent vetting checks.
Right from speaking to an applicant for the first time, to them starting a new position, from first speaking to a client, to booking in an interview, to the candidates start date, we make sure you are always aware of the current situation with Vetting checks.
We want to make the whole experience enjoyable and easy, and we are happy to chat through our procedures, whether they be about vetting or otherwise, so why not give us a call and see if we can fit around you?
0117 422 9420

How to get a job in education.
An overview of the different roles in education and the skills and qualifications needed to secure work in each position
Depending on which key stage, subjects and cohort you want to to teach has a direct impact on the level and type of qualification you'll need to enter the teaching profession. With education services spanning from working with children as young as six months to adult learners and mature students, it can be a challenge to know where to start. However, with its breadth of available roles, rewarding employment and childminding-friendly hours, a job in education can be fantastically rewarding, education roles are often flexible enough to last your full career.
Teaching Assistants
Looking for a taster into teaching? Consider working as a teaching assistant. Starting from early years and right through to further education, a teaching assistant will support a wide range of pupils with their learning needs. This can be anything from booster sessions in literacy and maths to specific 1-2-1 work with pupils with additional learning needs. You can enter this profession starting in a voluntary based position, get a taste for the classroom environment and find what suits your skills best.
Teaching assistant roles are generally based in term time hours and require a lower level of commitment, allowing you to study alongside work once you've secured employment. You can study in Further Education institutions or, in some lucky cases even secure on the job qualifications to obtain up to Level 3 NVQ qualifications as a teaching assistant.
Higher Level Teaching Assistants
Looking to take on a little more responsibility? A higher level teaching assistant role is the next stage. These staff work specifically to support the teacher with classroom management, support pupils in their learning, and from time to time take teaching session in the absence of the teacher, providing invaluable experience.
Many TAs use this experience to understand which age pupils they are best suited to working with and adopt the fundamentals in teaching such as classroom management, lesson planning, stepped learning and time management in the classroom.
For those looking at working in this role with pupils in secondary school and sixth form/college (key stages 3-5), you will generally only find learning support and teaching assistants working with pupils with additional learning needs or behavioural challenges.
Cover Managers
A key part to the teaching time in secondary schools are cover managers. Cover managers work alongside support and teaching staff, delivering lessons in the absence of a teacher (this can be planned timetable absence, PSHE lessons or sickness cover). Cover managers manage the entire classroom experience, offering support and the delivery of set lessons across a range of subjects, and they can even specialise in a particular subject. This is a great role to undertake if you're considering a PGCE conversion course after you have secured your main degree but is mainly practised in secondary schools.
Primary or Secondary School Teacher
So now you've had a taster and you want to become a primary or secondary school teacher?
For primary schools you will require a specific teaching qualification and headteachers will predominantly look for staff with specific a specific primary teaching qualification. Conversely, secondary school teachers will typically achieve their teaching qualification through a PGCE conversion course (as mentioned earlier). Although you will not necessarily be restricted to teaching your degree subject, this is the norm and will allow you to work with pupils at all levels.
PTLLS and Conversion Courses
Further education colleges accept teaching conversion courses such as the Preparing to Teach in the Lifelong Learning Sector (PTLLS) or similar. These are courses that can be studied out of university and although they do not offer Qualified Teacher Status, they do train you in the essential skills of teaching, such as you would learn in a PGCE degree conversion course.
If you're looking to teach vocational skills or apprenticeships, a qualification in the subject area and demonstrable teaching ability is all you need. Working with or mentoring pupils or apprentice work is a definite bonus – but not a necessity.
Breadth of Opportunity
One of the key attractions of teaching is the myriad routes into the sector, and flexibility within the roles. If the above sounds great but you're not ready to commit full time, consider part-time volunteering, schemes through work supporting children with outreach programmes, young apprenticeships, youth groups or anything that will give you experience – and the applicant edge – working within the teaching sphere.
To get into teaching all you truly need is the passion for your chosen subjects, commitment and dedication to the craft and the conviction of knowing that you're making a difference. There will be tough days, but ultimately enduring satisfaction, knowing you have helped shaped the minds of future generations.
Want to hear more? Contact the Dovetail and Slate team on 0117 422 9420 to discuss how we can help bring your skills and experience to schools and colleges across the UK.
 'How to get a job in education" is the sixth in a series of 12 articles from Dovetail and Slate exploring issues faced by the recruitment sector.
Apprentice Compliance Officer – £12,000 per annum + bonus
Are you a hard working go getter? Fancy yourself as a professional business person?
We have a vacancy that would suit you, within  our growing office with a young team, expanding into an exciting industry.
We're on a mission to build a strong, diverse team of ambitious, go-getters who want to find a purpose in their work and help others in the process. At Dovetail & Slate we work hard to create a working environment where all kinds of work happens – and happens well. As we strive to achieve this goal, we make it our priority to provide our people with the very best resources to ensure they fulfil their potential.
These are some of the values we live by, as a forward-thinking company. We work by them, too – we are offering a service that we believe in knowing we can contribute to the current skill shortage and shrinking talent pool.
Business Administration for the office
Compliance for Candidates
Reports to clients on candidate status
Candidate registration
Running safeguarding checks
Arranging company trips and events
Booking client meetings and events
What we offer
Competitive apprentice salary
Friendly and professional work place
Free tea, coffee and biscuits
Substantial training and mentoring from market leader.
Work laptop provided and work phone
Bradley Stoke state of the art offices
Brand new technology and training on its use
Expansion and progression opportunities!
What you need to
English and Maths at C+
IT Literate
Proactive personality
Great communication skills
Hard working go getter!
Desirable
Driving License and own car
How to get a job without experience?
Whether you're fresh into the workplace or looking to change careers, landing that first job can be highly frustrating, especially if you don't have the luxury of supporting yourself through work experience. Here we look at alternative routes for landing a job without experience
'Can't get a job without experience; can't get experience without a job.' For the emerging contemporary workforce, it's an idiom that rings all too true as they discover that even the most decorated graduates are judged to fall short of the mark without practical knowledge to back up their grades. While academic institutions are (very) slowly changing to reflect the modern workplace, and more emphasis is being put on work experience, placements and internships, this still leaves a lost generation of workers in the middle of it all, struggling to find a job that will take them solely on schooling merit.
There's no getting around the fact that experience is seen as paramount in the workplace. However, if you're struggling to get a foothold on the ladder, there are several ways to either secure experience, or edge into your first role another way.
Lean on your contacts
It's no secret business is built on connections, but you might be surprised to discover how few it takes to secure work through contacts. Do not make the mistake of thinking contacts are restricted to workers within your field – they are everyone you know, plus all their friends and family. Broadcast yourself and the work you're looking for, and ask your friends to do the same, and if they know anyone who could help.
For the majority of jobs, casting your skill set out to your network might have a lower chance of finding someone in need of your talents, but a far higher chance of you getting the job should you find someone who does need it. By contrast, if you apply to a job in your field, you have a very high chance of finding someone in need of your skill, but a low chance of getting the job. In terms of supply and demand, in the former scenario you are putting in the legwork to overcome the shortfall in demand, and therefore become the lone supplier. In the latter situation the demand is still the same (one job) but there is a pool of potential suppliers for the employer to draw from.
In addition, the impact of personal recommendation is huge in the job market. Let's look at it from the employer's perspective. If someone they know is willing to vouch for you, even just in a personal sense, or additionally set up a scenario in which they will be 'owed a favour' by interviewing someone, that's an immensely powerful argument to a recruiter who otherwise has nothing but a sea of CVs to go on.
Create your own work experience
Working for free isn't an option available to most, but you can still create your own experience for the job you want during downtime. With the rise in self-publishing, some sectors like media now expect blogs, self-made videos and design work as standard, and with the rise of the 'gig economy' this trend is set to grow. For teachers, securing volunteer teaching or similar is a great way to build your CV, while even unskilled labourers are likely to get a good response from a local community post asking for work. Once you've completed the work, even if it's for a personal project, even if it's for a single day, ask them if they would provide a reference for a future employer. A bank of good references to draw from is ideal – plus it's a great way of tacitly letting them know you're looking for more work.
Social media is also a great way to showcase what you do to a wide range of friends, without boring them all to tears at every meeting. Post up recent successes, showcase what you do and make sure the world knows you're a hot prospect who's not yet snapped up. If you feel like it's inappropriate or unwanted on your personal Facebook, go wild on LinkedIn!
Talk yourself up
As a fresh jobseeker, it's unlikely you're swimming in professional confidence, and this can take a hit every time you read a job description packed out with unfamiliar terminology. But that's all it is – new words for familiar concepts. Get Googling and find the meaning of these alien idioms, but then go one further – incorporate them into your CV and your interview patter. While it might feel unnatural at first, speaking your industry's language is a shortcut to saying 'I belong', and subconsciously communicates on-job experience, something your employer is bound to pick up on.
Additionally, any specific jargon acts a pointer to a significant concept within your sector. If it's a concept that's arisen enough to become worthy of its own moniker, it must be common or important within the industry and therefore worth relating your own skills to. For instance, if you keep turning up 'B2B comms' (business to business communications), try to come up with some good examples of how you've modified your manner, address and attitude to meet businesses on their own professional terms. If you keep seeing descriptions revolving around 'face time' (meetings in person), tune into this with an application that highlights your ability to hit it off with anyone.
Find the ground floor (or basement level)
Sometimes, getting an 'in' is as simple as setting your sights a little lower. If you've got specific training for (for example) an executive role, while you might face hefty competition for the job you're trained for, you're likely to be a solid candidate for the assistant position. And once you've got the requisite experience, you'll have the roundedness to apply for that next executive position. The key with this route is to find your own boundaries and stick to them. Keep a handle on your own worth – use the role as experience and apply for executive roles as soon as they come up.
Landing your first job can feel like an uphill struggle – and one that comes as a shock to a lot of students. Essentially it all comes down to fostering connections, and making yourself stand out. While it might feel impossible, remind yourself – every worker in the world was once in your shoes. If they can do it, so can you!
'How to get a job without experience" is the fourth in a series of 12 articles from Dovetail and Slate exploring issues faced by the recruitment sector.
Motivation
Bit a personal one for me today, Monday is a tough day in my business or at least where things are at the most risk of going bananas, so naturally I sometimes struggle with remembering why I do this!
Recruitment isn't easy – I know people seem to have this view that all we do is push CVs round outlook and hope for the best but this isn't true.
Staying motivated is really difficult, so when my Mum passed away suddenly last year after a short battle with cancer, I lost any desire to even find my motivation again.
I worked for a large corporate business, that on the whole supported me through a very difficult time, but the business wasn't a home for me anymore so I took a bold/foolish step into my own business!
Fast forward 5 months, we are slowly beginning to develop into a brand that people want to work with, delivering a meaningful service to our clients with quality as our focus and affordability at our core.
My biggest hindrance was my grief, which manifested itself in so many different ways it was hard to keep up, but now 10 months on my life and my motivations have begun to stabilise.
My biggest motivator in this whole period has been my Mum, pictured below with my old man, whose wise words and wisdom she imparted to me has helped propel this business forward.
If you need any extra motivation today, look to your family/friends, talk to them about your dreams & goals. See how far they can take you!
This isn't part of the article series but a important topic to me!
Should you accept a counter offer?
Starting a new job can be a stressful experience. Interviewers are essentially looking to reassure themselves that someone can not only do the job, but walk it with their eyes closed, and achieve this with rigorous tasks and testing, lengthy discussions and exhaustive questioning. And candidates all this just to move out into the unknown, away from their colleagues and fantasy football league, from the extra days of holiday accrued over time. It's no wonder when employees go to post their resignation a counter offer can seem tempting. Why not stay when your employer's finally realised your true value?
While it might seem riskier to jump ship, the statistics tell the true story. 80% of employees who accept a counter offer end up leaving the company within six months. 90% will have left within 12 months. That's just one in 10 employees left after a year of accepting their company's offer. So why so high?
Once an employee makes their employer aware of their plans to leave, they've effectively broken trust with the company – or worse, are straight-up betraying them by moving to a competitor. At the point of resignation you hold all the bargaining power, but as soon as you turn down the new job offer, that power drops to nothing. Now you're known to be unhappy, dissatisfied, and prepared to walk – and your employer now has all the time in the world to find a more enthusiastic replacement.
Counter offers principally revolve around more money, but the driving forces for leavers are generally much more complex. A higher wage might make things easier at home, but the underlying stressors of the workplace – the politics, workload, commute or employment package – remain just as they were, but now with the added discomfort of the employee's escape attempt thrown into the mix. Job hunting is generally a last resort for a unhappy employee – was it really only about the money?
Even a pay rise might not be quite as black and white as it seems. At first it might seem like the company is finally financially appreciating your value. But actually, cost for cost, recruitment can be highly expensive and whatever pay rise you have is still saving the employer money overall. Added to this is the galling thought that they may have simply brought forward your next pay rise – which was likely due, given your ability to find a higher-paid role.
There are obviously exceptions to every rule, as attested by that 10% of employees still in their company a year on. You'll need to size the particulars of your situation and specifically the quality of your relationship with your employers. While the statistics can't judge your individual circumstances, they do at least suggest you should assess the situation with a dose of cynicism.
Resign on the dotted line: why employees leave their jobs
Any employer worth their salt can see that good retention levels are key to a successful business. Each employee that picks up their P45 takes with them a wealth of intricate operational and experiential knowledge tailored to that business. In some cases the specialist knowledge they brought to the table is unrecognised and never replaced – just ask BP, whose failure to replace a responsible employee resulted in a 900,000 litre oil leak when an oceanic pipe corroded.
In addition, even the savviest new starter can't hit the ground running at the same speed as a legacy team member, resulting in lost man hours as fresh recruits feel their way around the building, the software, the printer. Remember that 'first day feeling' when you couldn't work the scanner, or how you hand-washed your coffee cup for a month because you didn't spot the dishwasher? They're all inefficiency micro-moments, and they all add up.
And of course unrest breeds unrest, and a workforce witnessing a high turnover will often start to feel creeping doubt as to their own contentedness in the role. Resignations often come in waves where individuals have influenced one another to shop around for a new deal, or sometimes more overtly where a leaver shares the news of their pay rise or boost in benefits.
So retention is key. But exactly what are the top turn-offs driving employees out in droves, and what are the best strategies for tackling them?
LACK OF CAREER OPPORTUNITY
Lack of progression is a the most commonly cited reason amongst job leavers, particularly for those working within smaller companies. While it's a common assumption amongst employers that the pay packet is king, progression also denotes recognition, a 'well done', and a paragraph for the Christmas family newsletter.
In addition, employees who remain in workplaces long-term often experience a growing disparity between their job description and the tasks they actually perform. As this chasm grows it's natural to want a role that reflects their increasing duties – but in the company's eyes this is rarely financially justifiable.
Smaller companies and workplaces with low movement are often in the tricky position of being unable to offer progression, leaving managers to juggle growing employee expectations with the employer's forecast of financial continuity. While pay increases are not always possible, targets that lead to a change in job title can be a good incentive for employees looking for a definable sense of achievement.
POOR PAY
Money makes the world go round, and while great colleagues and a nurturing environment count for a lot, it's the wage that keeps employees coming back each day. Again, time tends to cause rising resentments around remuneration, as a wage that seemed reasonable for a fresh new role appears to become more and more miserly as the employee starts to stagnate.
Pay negotiations can be some of the most sensitive areas to navigate, with little you can offer an employee determined for a cash boost.
Managers looking to retain a salary-incentivised worker could always look to reduce their working hours or hours in office, as differing circumstances produce different monetary pain points. Just a half-day off a week can save parents over £100 a month in childcare, while for other employees working from home can massively cut commuting costs.
INSUFFICIENT RECOGNITION
Being recognised for good work seems, on the surface, to be an easy win for companies to achieve. You have a manager, an employee, a well-done deed – why not offer out the hearty handshake of employer approval?
Although many start-ups begin as bastions of praise and positivity, in reality a constant praise cycle ties into the issues above. Workers who feel overly valued in their positions wait confidently for their end of year pay review, overspilling with ego and sound of knowledge that they're in line for a wage increase. Similarly, employees deafened by the rain of praise ringing in their ears look forward to their promotion – and are likely to feel cheated if they don't get it.
So how do can managers recognise a job well done without overblowing expectations? Don't take the easy way out and refuse to praise anyone at all – you're just creating another case for resentment. The best advice is to offer specific praise, but divvy recognition among everyone in the team who helped deliver the project, rather than singling out a sole individual. In this way you can demonstrate an understanding of group roles and dynamics, a holistic appreciation of your team, and hopefully deliver praise in a way that communicates to the individual that they are part of something bigger.
Resign on the Dotted Line is the first of a series of 12 articles from Dovetail and Slate exploring issues faced by the recruitment sector.